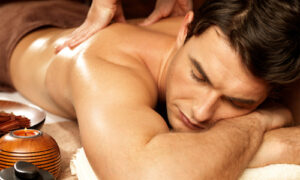 At the essence of all human beings lies pure loving joy. As innocent children, we openly trust our parents and the world arounds us. Yet,  after experiencing disappointment, emotional trauma and social conditioning, we shut down and numb ourselves to avoid pain. Our tense, contracted, energetically blocked bodies keep us from experiencing the joy of sexual pleasure. Such an unconscious type of defence is known as sexual armouring.
A tantric body de-armouring massage helps you release the chronic tension generated by shame and guilt, unconscious sex, years of ignoring your body and not having clear, set boundaries. This intense but profoundly healing bodywork focuses on the external erogenous zones to clear out fear-based emotions stored in our tissues. It enhances sensuality, vitality and helps sexual energy flow freely to experience the depths of your full body orgasmic potential.
Three sessions within a 2-week span is the recommended regimen for first-time clients.
Would you like to experience the following?
AWAKEN YOUR SEXUAL ENERGY
ENHANCE CREATIVE AND VITAL ENERGY
FREE NEGATIVE EMOTIONS
RELEASE TRAUMA STORED IN THE BODY
HEAL ON the PHYSICAL, ENERGETIC AND MENTAL LEVELS
What to expect during a session
A session is about two hours in duration and should be done on an almost empty stomach. No sexual interaction between therapist and client transpires during or after the massage. Although de-armouring can be done both externally and internally, Tantric De-armouring Massage works externally.
Human beings hold onto trauma for long periods of time, which takes a heavy toll on the body.  Thus, these areas can be tender. So, this therapeutic bodywork is more intense than a conventional spa massage. The intensity is needed to release whatever the body is holding on to. I use intuition and body language reading, but also incorporate a scale system so as to promote a safe, smooth process.
Releases can occur in various ways; i.e., random emotions can surface like anger, sadness, fear or grief.  In turn, that process can generate crying, laughter, screaming or moaning. Also long-forgotten random memories can arise with no reason. Energy can shoot up and down like electricity or fire balls.
This need not make sense at the moment. 
It is just a sign of release and letting go. We finish with a rejuvenating relaxation and integration of the entire experience. 
At this stage you may feel a deep union with existence as you find yourself floating, immersed in the warm, loving energy surrounding you,