According to The Centre for Marriage and Family Studies, relationships end because of infidelity, lack of time spent together, challenges with extended families, communication challenges and blaming, as well as division of labour and money. Yet,  sex and mismatched libidos also play a major factor in a significant number of breakups. In order for any relationship to succeed, coming together intimately as a couple is absolutely vital.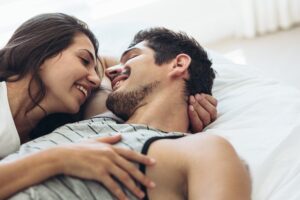 In my practice, I often see clients who present with multiple concerns. My role is to facilitate their exploration of underlying issues and offer potential solutions. I remind them that while it's my responsibility to generate options, it's ultimately up to them to take action and implement positive changes in their lives. Together, we work towards creating a more fulfilling and empowered future.
Men. As a sex therapist, I address common sex-related issues faced by men, including sexual anxiety, premature ejaculation, erectile dysfunction, and sexual addiction. I offer specialized training to help men last longer and overcome premature ejaculation. I work with physicians to provide alternative solutions beyond medication for ED. Additionally, I provide support and guidance to those struggling with sex and porn addiction, recognizing the addictive nature of activities that stimulate the brain's reward centers. My goal is to create a comfortable and non-judgmental space for my clients to discuss their sexual concerns.
I also see men for low libido, fetishes, infidelity, sexual variety including lifestyle (swinging), keeping it hot questions, marital problems and finding partners. Plus, I address all performance-related issues from lasting longer and staying harder to better orgasms, as well as sexual obsessions, fantasies, preferences, practices, hormonal disorders, erectile dysfunction, sexual addiction, insecurities, retarded ejaculation (difficulty reaching orgasm), or no ejaculations as part of the sexual counselling.
🌹Women.  As a therapist with extensive experience in helping women navigate their sexual lives, I have observed that some common challenges that women may encounter include low libido or mismatched sex drives, difficulty achieving orgasm, concerns related to infidelity and jealousy, and painful intercourse. These issues can be distressing and impact overall well-being.
As part of my approach to addressing these concerns, I also offer support in crafting dating ads for clients who are seeking meaningful or casual relationships. I understand that finding the right partner can be a crucial aspect of one's sexual journey and I am here to provide guidance and assistance in any way that I can.
🌹Low Libido.  Are you feeling like you've lost that spark in your love life? Don't worry, you're not alone. In fact, over 25% of women struggle with sexual desire and it's more common than you might think. But the good news is your libido need notstay low forever! With the right help, you can get that loving feeling back and reignite the passion in your relationship.
As a therapist who specializes in addressing Low Libido Syndrome, I've seen first-hand the transformative power of a multi-faceted approach to treatment. My program includes a comprehensive hormonal blood workup, counselling, date night coaching, and information on techniques and sex habits (sex quotient). I also offer bio-identical hormones, supplements, and body image work to help you feel your best and boost your libido.
And here's the best part – my program starts working within just five sessions! That means you can start seeing real results and improvements in your love life in no time.
If you're struggling with difficulty reaching orgasm or inorgasmia, I'm here to help with cutting-edge orgasm creams, new techniques for stimulation, and even romance items you may have never tried before. We'll also explore the psychological factors that may be holding you back and work together to help you relax and let go so you can finally reach that elusive climax.
So if you're ready to get that loving feeling back and reignite the passion in your relationship, contact me today to learn more about my Low Libido Syndrome program.
🌹Painful intercourse. If you're experiencing pain during sex, known as dyspareunia, you're not alone. This condition can be caused by a range of physical and psychological factors and can be quite serious. In some cases, women may even be diagnosed with vaginismus or vulvodynia, which can make penetrative sex nearly impossible due to painful vaginal muscle spasms or vulva pain.
But there is hope. As an expert sex therapist with a medical background, I work closely with a team of pelvic physiotherapists to create a personalized treatment plan for each of my clients. Whether it's vestibulitis or another type of painful intercourse, we'll work together to find a solution that works for you.
Beyond treating physical conditions, I also work with women and couples on a variety of issues related to sex and intimacy. From exploring BDSM and submission to keeping the passion alive in your relationship, I'm here to help you address any concerns you may have. I also offer sex abuse counseling for those who have experienced trauma and support for those struggling with loneliness, lack of communication, and marriage counseling.
No matter what your concerns may be, know that there is always hope for a fulfilling, satisfying sex life. So don't hesitate to reach out and schedule a consultation with me today. Together, we can work towards a happier, healthier you.
By the way, as I previously stated, many people visit me for more than one issue. My job is to pull out what's really going on in your intimate life and address it head on. As I say to my clients, "my job is to generate options; your job is to implement them." So, please allow me to arm you with all the information you need to make an informed decision about remedying whatever is going on with you.
☀️Warm Regards,
Jeanne
Fee: $150 per session, paid at the time of booking.