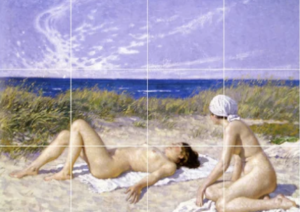 Psychological shells, like clothing, protect and insulate against undesirable environmental forces and situations. Such shells can also have adverse consequences, like mental illness, the inability to connect with loved ones, and inability to give and receive love.
Now is the time to assume a state of psychological nudity symbolized by physical nudity. S

hed the ugly apparel of hate, sloth and human urge to exploit others. 

Revel in your internal and external nakedness, free to soar in pure love and delight, free to learn and be creative, and finally, free again to engender your authentic inner child who simply wants to love and play. 
Basic core human considerations revolve around our own physical bodies. Many cultural conventions and taboos about our bodies have been artificially established throughout history. What should surrounded our physical body to bring out our physical body's full potential?If the world were safe, comfortably warm and fully loving without reservation or exploitation,  most people would spend more time naked. Even now many spend more time in the natural state than is commonly realized. Many people bathe naked, sleep naked, swim naked; and perform activities besides sexual ones while naked. In fact, housework is often done in the nude when nobody is around.
We were all born totally naked. 
Naked is how we enter the world and naked is how we really are now. 
Under our trendy clothing, we are all stark, raving naked.
Everyone has body parts they desperately want to hide consciously while subconsciously, they may flaunt these same parts with clothing styles and apparel devices. 
An adult has either a penis and scrotum or vulva and developed breasts.  We all know what's there but we still want to hide it from others. Again, our natural state throughout life is to be naked as the day we were born. If you set aside considerations like modesty and a need for warmth, being nude feels very comfortable indeed.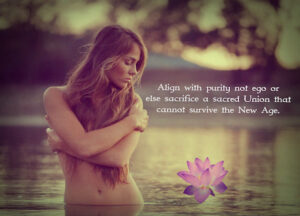 In the case of any young children, toddlers would rather be nude. They dislike wearing diapers and keeping them in clothes requires effort. Most parents  observe how free, active and joyful a young child becomes when undressed.
Interestingly, you are still the same as you were as a child in this regard if you study your innermost feelings.
A common misperception is that covering the human body relates to morality.  It is felt that by covering the body, especially the genitals, buttocks and female breasts, sexual activity is limited to what the current culture condones.
Yet, studies of various cultures characterized by total nakedness to total full body covering show no clear correlation between sexual promiscuity and undress.
Plus, no intact culture or society today or in the past has suffered the incidence of STD's that western society has.
Ancient writings often reveal profound insights.
According to the Biblical account of the Garden of Eden, only after sin began does concern over human nakedness become an issue.
Only man's guilt and shame over breaking God's commandment resulted in his (not God's) institution of clothes.
Nowhere in the Bible is nudity directly forbidden.
Sexually transmitted Diseases (STDs) may be construed as a measure of a society's level of sexual promiscuity. Western society is able to survive the effects of venereal diseases of epidemic proportions due to rampant sexual immorality only through the intervention of extensive medical treatments, which are woefully inadequate.
Clothing is NOT  the key to boosting public morals. It's time to acknowledge the link between nakedness and immorality; i.e, if society prohibits non-sexual mixed social nudity, nudity by definition has a sexual connotation.
This is of your own making; it need not be so by the nature of things.
Most children are taught by parents, teachers and others that nakedness is bad but it's usually made relative in various ways; i.e.,  i
t's fine to be naked for the doctor.
Sometimes for young children at least, nakedness is tolerated before family members or  recreational activities like swimming in the family pool.
But as we mature, nakedness in front of others becomes unacceptable except in the context of private sexual relations.
 Clothes frequently represent guilt and an attempt to deny the sexual thoughts and desires every normal person has. Except to the extent that expectation produces its own effect, clothes have no significant value in controlling sexuality. In fact, there is considerable evidence that sexual aberrations are stimulated by clothing practices.
In our society, nakedness is associated with two basic activities, namely: hygienic functions such as bathing, changing clothes, etc. and sexuality. If we were naked at other times as for sunbathing, sports, exercising and even just relaxing, the strong association with sexuality would be weakened.
Now if you were to discard your clothes in public, it would be viewed as criminally or psychologically deviant.
One could not just disrobe because of the heat or tight, uncomfortable clothing.  This would not be accepted as just the matter-of-fact thing it might have otherwise been.
🌞
Sociological studies of ethnic groups in which nudity is common show that no cause-effect relationship can be determined between being naked and immorality.
Social nudists also exhibit this lack of association.  Clearly, many still link nudity with overt sexuality.  From a scientific psychology perspective, the connotation of nudity is no more than a learned sexual fetish.  It is not an innate human characteristic.
The very word 'nudity' in western society connotes sexuality and pornography; however, these associations are far from fixed or universal.
In some societies, nudity is totally divorced from sexual overtones.
It may have no significant meaning in itself or it may imply a state of poverty, humility or sacred state of holiness.
 UNLEARNING the sexual connotation of nudity as nude activities can afford you many physical and health benefits:
Physical and Psychic Benefits of Nudity
greater freedom of movement, absolutely vital in exercise and work;
greater appreciation of the beauty of the human body, faults and defects;
regular and controlled nude sunbathing enhances resistance to disease;
provides more effective natural vitamin D and calcium balance;
reduces the effect of stress;
decreases blood pressure;
decreases resting heart rate;
decreases blood cholesterol;
decreases excessive blood sugar;
increases muscular strength and endurance;
improves many skin diseases such as psoriasis;
reduces depression; and
reduces risk of internal cancer  and cardiovascular disease.
Due to the more natural testicular function produced by a cooler scrotum, nudity reduces male infertility, impotence, nodular prostatic enlargement with resultant urinary tract obstruction, as well as reducing the risk of testicular and prostate cancer. Nakedness provides relief from the harmful effects of clothing and shoes like mechanical constriction which may cause deformities, poor lymphatic and blood circulation, inadequate breathing, compromised digestion, fibrocystic disease of the breast, varicose veins, blood clots and hampering the ability to relax.
The occlusive effects of clothing include increased risk of vaginal and bladder infections bladder and inflamed perianal skin.
Lack of natural circulation causes increased body and foot odors. Increased risk of falls can be traced to slippery shoe soles as well as shoes interfering with feelings and tactile perception.
The risk of communicable diseases is reduced because skin rashes, open sores are not hidden by clothing and inappropriate associations can thus be avoided.
If you assume that NEARLY nude would accomplish the same thing, remember that there are vital reasons to particularly expose the very body parts that "modesty" might want covered. It is precisely the skin of the genitalia, buttocks, perianal areas and breasts which benefits most from the drying and cooling effect of free air flow as well as the drying antimicrobial and other desirable attributes of sunlight itself. Logically, if any parts should be covered at all it would make more sense to cover the face and hands since the skin of these parts is already liable to more than its share of sunlight, etc. by ordinary daily activities in the clothed state. TOTALLY nude at appropriate times is really the only way the full benefits can be obtained.
Sociological studies have shown that social nudists generally have higher moral values than the general population. In addition, nudist families are more stable than average. Children exposed to the social nudist lifestyle grow up with [FAR] fewer sexual hangups and aberrations than control groups. This should not be surprising since much sexually deviant behavior has a significant component of exhibitionism or voyeurism, the point of which is largely lost in a totally nude group of people.
Make nakedness a common daily experience, unassociated with sexuality, so an unhealthy interest in porn is lessened.
The prospect of non-sexual nudity could generally be expected to generate at least a limited heightened concern for our own body appearances. 
This is highly desirable as it fosters better attention to diet, exercise and other lifestyle considerations.
It's impractical to be totally nude at all times. Functional outerwear is often necessary to protect us against excessive heat or cold. Clothes may guard against too much sun or ultraviolet exposure, rain, snow, trauma and work place injury. Pockets are useful. Uniforms may be necessary for identification and other purposes. There are useful sanitary functions of clothing. No one could reasonably deny these important and legitimate purposes of clothing but this is not to say that nudity does not also present important and legitimate purposes at appropriate times and in appropriate places.
Clothes serve many useful functions even though successfully improving morality is not one of them. In fact clothes are frequently overtly designed to be particularly sexually provocative and often, if not usually, are more sexually arousing than total nudity might be. It would be a step toward better psychological and physical health if we could accept public nudity in a matter-of- fact way at least to a limited extent. Certainly no one would be harmed by such a practice in designated areas and at designated times for specific legitimate purposes as sunbathing, exercising and for various sports. Many people have enjoyed nude jogging, swimming, sunbathing and other similar activities in secluded places for years. Not everyone has convenient access to isolated places where this can be done privately without possible offense to others. It would be an appropriate use of public areas such as parks to have designated, clothes-optional, areas and times when legitimate nude activities are permitted. Actually, it could be argued that it's even more appropriate to turn the situation around and designate times and places where clothes must be worn (textile areas) so that those who are offended by the natural body state and who are unable or unwilling to separate nudity and sexuality, can assemble together without fear of having to deal with nature and the truth.
Let us all look forward to a time when society's vision will be cured of its crippling moral myopia.
Certainly standards of morality are essential to the efficient functioning of a society and as a framework for dedicated, potentially vulnerable interpersonal relationships.
The issue is how society now confuses morality with fashion and convention.God's most beautiful creation is the human body, genitalia and all!
🌞Your genuine love and concern for others will allow you to transcend what you think you look like and your perceived  physical deficiencies.
Yet, know that your body is a wondrous creation and you are the most marvellous being ever created.  Beautify yourself even more by optimizing your lifestyle with the following:
Five Keys To Optimal Health
1. Diet with vitamin/mineral supplements
2. Exercise and physical and mental work
3. Environmental factors like sunlight, fresh air and appropriate clothing
4. Personal interactions emphasizing love, affection and play, within the framework of psychological and physical disease prevention.
5.. Attitudinal attunement (developing an unfettered view of reality, essential to inner peace and equanimity.
As glorious as the human body may appear, it is even more exquisite when fulfilling its functional potential; i.e., a woman's breasts are never lovelier than when nursing her infant.
More than the numerous physical health benefits associated with nudity are the psychological and attitudinal advantages induced by realizing the moral neutrality and simple innocence of nudity in itself.
Accept that your bodily coverings have nothing to do with your values and moral attributes, then you can openly explore how your psychological shells, attitudes and opinions  constitute undesirable armour, shielding you from otherwise attainable beauty and truth.