Confusing touch and sex. A dynamic unfolds between a couple where one partner wants sex more often than the other, such that one partner is always initiating and the other is always rejecting.
The lower-libido partner will often start feeling uncomfortable. They may feel guilty rejecting their partner's sexual advances so often or frustrated that their partner keeps trying to initiate sex when they're not feeling it. It may begin to feel like every touch is charged as if their partner will try to make every embrace or hand on the back turn into a sexual touch.
All these negative feelings start popping up every time they even vaguely touch each other.  Then after a while, the lower-libido person may begin avoiding being touched by their partner totally to avoid this tough dynamic.
The more highly sex partner  may often notice that their partner has been avoiding their touch. This may be quite hurtful if their love language is physical touch, or it may feel like their partner is no longer interested in them sexually.
The importance of non-sexual touch
. 
Sex and intimacy are two different things, but western society often uses the terms interchangeably.
 I often talk with couple clients about the importance of non-sexual touch in a relationship.
Non-sexual touch (nuzzling up with each other in bed in the morning, kissing each other hello and goodbye, or simply resting a hand on your partner's arm or knee as you talk to each other) can be vital for creating feelings of warmth and closeness in a couple. For many couples, losing all physical touch in a relationship can really hurt their connection.
Naturally, some people are just not that touchy. In fact, different people have different
love languages
and may care more about different types of intimacy, which is fine.
In the end, it just matters that a couple can find ways to mutually show affection that feels good to both of them.
Scientifically, there are many benefits of touch, particularly for relationships. Any form of touch—from hugging to orgasms—triggers the release of feel-good hormones in the body, including serotonin, dopamine, and oxytocin, the bonding hormone, the same one released between a newborn infant and its mother. This explains why skin-to-skin contact is highly recommended for bonding after childbirth.
Prioritizing touch, without strings attached. If couples consciously strive to detach touch from sex, then, even when their libidos are misaligned, their couple connection doesn't waver. After all, they still have other non-sexual ways of showing affection and cultivating intimacy.
It is perfectly fine to tickle each other, rub your partner's back or simply sit close side-by-side. Those fun, intimate behaviors  need not lead to sex. Your partner needs to grasp that every time you touch them, it is not always an invitation to jump your bones.
It can help to have a conversation as a couple about how you can remove the pressure from touch, such that you can enjoy kissing, cuddling, and other forms of touch without any expectation that sex must come from it. It may even help establish "first-base dates," i.e., romantic time you spend together where you agree that sex is off the table.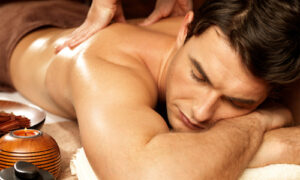 Clearly, it is also crucial to find ways to make sure the partner with the higher libido still feels like their sexual needs are being addressed in the relationship. Surprisingly, cultivating more non-sexual touch can make both parties feel loved and satisfied. More often than not, when there's an influx of warmth and intimacy in a relationship, sex can feel like a more desirable next step. You may even find that sexual desire in the relationship builds back up over time naturally.