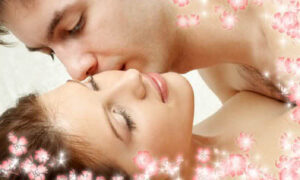 Have you ever experienced that acute sense of dissolving that deep sex brings, such a powerful feeling that mystically connects you to all life. 
Is your sexuality a means for actualizing your human potential?

In this session, we practice, question and explore specific practices that cultivate a sexual charge in the pelvis. We'learn ways to activate the Kundalini and every aspect of who we are during lovemaking. We explore male and female arousal anatomy, examining regions long deleted from modern anatomy books. We do a deep dive into sexual chemistry, as to what it is, what it means and how to harness it, in every relationship paradigm.
 
We study parallels between academic Tantra and live practice as we form a dynamic hands-on session of inquiry, exploration and sharing. 

What To Expect In A Session

Learn specific techniques to engage your physical capacity to honor your sexual-spiritual being.

Learn about Neo-Tantra as a spiritual pursuit and journey.

Learn how to feel your body's sexual energy and how to exchange it with a partner so that you merge together as one.

Learn how to surrender to full body orgasm and naturally access orgasm more easily than you do now.

Experience sexual energy moving through your body and learn how to make that happen.

Discover new ways of opening your heart and becoming vulnerable with another, powered by your sexual energy.

Experience deep surrender and relaxation in high states of arousal.

Share your sexual self fearlessly with your partner. Practice total self-honesty as you tap into your authentic self.

Discover your unique Neo-Tantra quest. What can you expect on the journey? Where are you going? What is possible for you?

Reconnect with your genitals; feel them pulsating with sexual energy and desire as you awaken your vitality

Be fully present in sexual moments minus any judgment or expectation of yourself or your partner. Bask in the joyful gratitude of just being

Discover your sexual empowerment, learn how to fearlessly give of yourself.

Experience a radically open heart by letting vitality flow through your entire body. Feel vulnerable with a natural, easy love you can share with others.

Be truly intimate with yourself and others, by using your sexual energy as a potent force of awakening and vitality.
🌼Testimonials🌼
Devi Bliss creates a strong but gentle container that feels calm, relaxing and inviting. I appreciated the tools she presented, and the lovely energy and willingness that she brought to our session. 
FW., Jacksonville, Fl.
Devi creates a relaxed sacred space and expertly guides you into heart-centered presence practices. I instantly felt safe enough to explore my life force energy with her. I left the session feeling totally activated, with a renewed sense of juicy self-love. R.H., Calrlsbad, CA