When she turned 27, my client Janine succumbed to a serious case of wanderlust. "It seemed like I had done nothing interesting with my life to date, and I had always wanted to experience solo travel." Janine subsequently took a year-long hiatus from her  job at a prestigious local hair salon to pursue her globetrotting adventures.
In just 12 months, she visited four continents, 12 countries, 31 cities, and five U.S. states.  Her ability to travel the world was the direct product of her intense year-long planning. To manifest her cherished dreams of travel, she put in a solid year planning, saving and budgeting to realize her global goals.
Domestic and International Travel Planning Tips
Make a plan.  Each trip must start with a goal. Decide where you want to go, when and for how long. Start researching before you have the money to go.  Determine how much it will all cost. Once you do that,  develop a tangible trip in you head, which motivates you to save the necessary money. Do not click the purchase button until you can afford the trip, document the cost of airfare, lodging, food, transportation, entertainment and incidentals. Price out all such items by browsing travel websites and blogs. Consult fellow travellers, in person, on message boards and/or social media.  If you are planning international travel, factor into your budget exchange rates for local currencies and administrative costs, like passport and visa fees.
Open a dedicated savings account. Once you identify a financial goal, work towards it by saving money. To make it easier, open a dedicated savings account exclusively for travel. Direct deposit money into your savings account each month, and never touch it.
Sacrifice now; travel later. During your year of saving, apply a wants-versus-needs mentality to your monthly budget. Start with easy budgeting steps.   For instance, you can save a lot of money if you cook meals at home versus eating out, buy food and toiletries in bulk to lower the unit cost of groceries, go out with friends less often and cancel your gym membership to work out from home. Think about money in terms of plane tickets, like not buying lunch each day at work,. If a sandwich and coffee cost $10, and you spend $50 per week on lunch, which amounts $200 a month. With that, you can buy a domestic plane ticket if you shop around for a deal.
Be flexible. Yes, planning is vital but so is flexibility. Janine was planning a trip to Laos when she encountered a cheap off-season fare to Brazil. If you're flexible on your travel dates and destination, you can find some great deals.  Also, consider being flexible with your budget. Give yourself one budget for the whole trip instead of a daily budget. If you decide you're only going to spend $50 a day, you may miss out on an awesome experience at the end of the day because you're near your limit. You can decide to splurge on that experience and, instead, spend less the next day.
Despite Janine's disciplined approach to saving and sticking to a budget, what she learned most during that year of budgeting was what money couldn't buy, not what it could.  To wit, we often forget just how little we need to survive!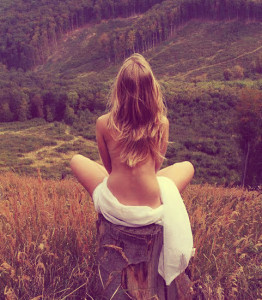 So, stop spending money now on items you don't need and start spending it on your most desired life experiences.
Are you ready to start saving for travel?  
If so, check out my blog for more tips on travel cost savings and creating a budget.