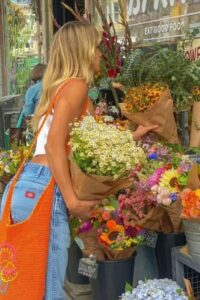 Yes, it's starting to feel a lot like summer to those of us who live in the Northern Hemisphere.  The telltale signs of summer include the weather heating up; everyone starts reeking of sunscreen and the stores are suddenly stocked with beach umbrellas, barbecue grills, boogie boards and pool toys.  A great way to really ensure that you have a fabulous summer this year is to set some firm goals for the season.
Here are 50 summer goals to make the most of the season.
Take your meditation practice outdoors
Take direct action towards your achieving your goals.
Boost your mood.
Decrease your stress.
Feel calmer, more supported in reaching your goals.
Listen to your intuition.
Learn how to access your intuition with ease.
Follow that intuition.
Know yourself better.
Find your inner God or Goddess with ease.
Stop always being the "nice girl or guy;" access your power!
Read awesome near-death stories and what resulted thereafter.
Get connected with other like-minded folks.
Devote an entire day to pleasuring yourself in some way.
Feel more at home in your body.
Seek out inspirational coaches to motivate you.
Stop the endless judging of your own body for good!
Connect with the Divine Feminine or Divine Masculine.
Let yourself experience some sex magic!
Learn about energy whether you can feel it or not.
Learn how to work with your own energy to heal and grow.
Stop judging your age.
Cultivate some new friendships.
More ease, joy and glory daily!
Make more money!
Create the life you desire live versus live at the effect of others.
Realize how amazing you truly are.
Learn to receive and then receive it all.
Achieve greater self-confidence.
Appreciate nature and the earth and what she has to offer you.
Learn how the archetypal Goddess can support your healing.
Understand what miracles truly are.
Learn a simple grounding practice for greater ease in life.
Become more accepting of yourself and others.
Feel serene more often.
Rest easier, sleep better!
Live your life purpose in alignment with Source.
Feel deeply connected to a community after so much isolation.
Love yourself more each day!
Understand the nature of being male or female today.
Study the basics of Tantra.
Get a professional tarot reading for your day!
Figure out whether or not you are truly happy.
Strive to fully understand what's making you judge yourself.
Learn how to finally stop judging yourself.
Appreciate all that the aging process can offer you.
Explore the wisdom you wish to pass on to your progeny.
Access true happiness.
Learn to lead with your Feminine or Masculine Self.
Honor your magnificent Self every day!