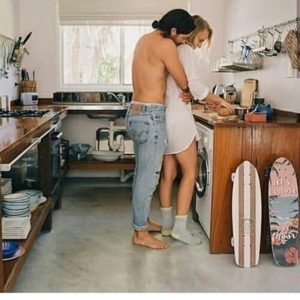 Men, Valentine's Day is just around the corner once again, thus the store shelves are already stacked sky high with heart-shaped candy boxes, pink and red flowers and piles of plush teddy bears. Yes, men, you should show love and appreciation all year round to your women, but the romantic flower and gifts that accompany the Valentine's Day are especially fun and romantic.
What a fabulous chance for you to flex your creative muscle and show your Beloved just how you deeply you feel about her. Different Valentine's Day ideas can be found for every relationship stage and some women care more about the holiday than others, so keep that in mind when picking out gifts or planning dates. Are you looking for a laid back idea or something more extravagant?  Whatever your taste or budget, you can find a myriad of exciting ideas here to woo and wow her this Valentine's Day .
How to Surprise Her Away From Home. Your Beloved will be impressed if you plan her a special outing on Valentine's Day. Many romantic indoor or outdoor date options depending on her tastes and interests. For added inspiration, go online to check out the top Valentine's Day ideas in your city. Take your surprise date to the next level and blindfold her while you're driving there so she has no idea what to expect. Just remember to make plans and reservations in advance since everything books up quickly on and around Valentine's Day.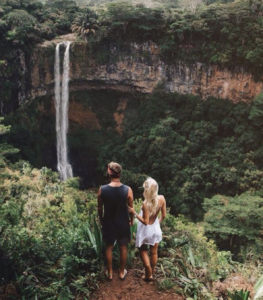 Plan an outdoor adventure. 

If she totally loves to get out and explore, cater to her adventurous spirit and plan a romantic outdoor date. Depending on the weather and where you live, possible options include hiking, camping, boating, hitting the slopes and kayaking. An ideal gift to pair with this date could be some outdoor gear like a sleeping bag, hiking boots or thermal water bottle.  

Retro-style date. 

For a fun, quirky Valentine's Day, think roller skating rinks, carnivals, arcades, diners and drive-in movie theatres. Even if you live together, make a point to get ready separately, pick her up and arrive at the doorstep with 

roses

 in hand. Spend the evening sharing milkshakes and fries or snuggling at the drive-in.

Wine or beer tasting. Whether she loves chardonnay or pale ales, a tasting is a low-key, fun idea that can be its own date or a precursor to dinner. Go on-site to a winery or brewery or just visit local spots to make an adventure out of it. Tip: Keep an eye out for her favorite drink so you can buy her a bottle as a gift, either for Valentine's Day or a future occasion.
Take her to a show or event. 

If her favorite artist or sports team is in town on or around Valentine's Day, surprise her with tickets. If the event is out of town, make a mini vacation out of it by getting a hotel and exploring the area. She'll love the show and be impressed by the effort that you put into the experience.

Go to a class together.  Spend time with each other on Valentine's Day by learning a new skill together. There are all kinds of classes to suit everyone's interests (cooking, baking, massage, painting, sculpting, dancing, mixology…). As a bonus, if you both like the class, make it a regular date night or new hobby for your shared enjoyment.
Glam night out. 

For a romantic, glamorous night out, get all decked out and take her to an opera or symphony performance. Not only are the venues gorgeous, but

live classical music is 

extremely powerful and romantic!

Out of town retreat. 

Take her on a weekend getaway to spend quality time together, explore a new area and play tourists for the weekend. If you aren't at the level in your relationship for a weekend-long outing, a fun day trip to a nearby city is ideal.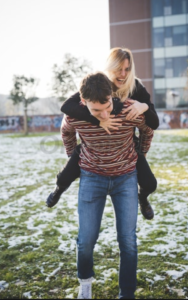 Relive your first date. 

If you've been together for some time, recreate how you first met or your first date. What a playful, romantic way to celebrate. Your first date is a sentimental blast from the past that she'll love, plus, it's a great opportunity for a proposal if you're at that point in your relationship.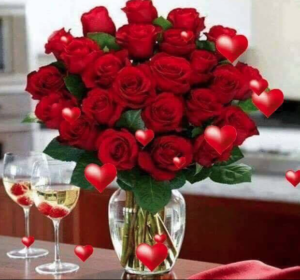 Surprise Her at Home.  You need not go far to have a fun, romantic Valentine's Day; keep it close and create the perfect date at home. No reservations needed and you can savour some passionate one-on-one time.
Create a grand entrance and romantic scene. 

Let the magic begin the second she walks through the door by decorating the hallway with a trail of rose petals or sweet notes leading her to the next surprise. Set the tone with lighting, candles and 

romantic music, and 

she will swoon.

In-home spa treatment. Surprise her with a spa day at home. Start with a candlelit massage to help her unwind from work or school. Then draw her a bath, toss in some heart-shaped bath bombs and provide her with a relaxing face mask. Tip: Bring her some champagne and chocolate covered strawberries to take her bath to the next level.
Create art together. 

Recreate a fun wine and painting class in your home. Gather up any art supplies you need plus snacks to fuel your creative energy. Follow online tutorials or create a piece all your own. Hang the completed masterpiece at home to remind you of your fun date.

Movie night. 

Take movie night up a notch by creating your own personal cinema. Rent a projector to watch movies on a blank white wall or big screen. Don't forget plenty of blankets, pillows and candles!  Grab her favorite treats and drinks to eat alongside a big bowl of freshly buttered popcorn. Turn on her favorite movie and enjoy!

One-on-one dance party. 

If she loves to dance, throw her a one-on-one Valentine's Day dance.  Dancing isn't everyone's penchant so ensure it's something she likes before making plans. Create a song playlist with a fantastic mix of fast and slow songs. Ask her to slow dance and she'll get those adolescent butterflies all over again.
Affordable Surprises for Her. If she doesn't make a big deal about Valentine's Day or you're in a new relationship, a more low-key gift may be the wisest option. The following easy romantic ideas won't break the bank!
DIY projects. 

A DIY project is a meaningful and affordable gift, and as a bonus, you can personalize it to her exact taste. Some great DIY projects to consider are decor pieces and things she can use, like a coffee mug or a 

DIY zen garden

.

Create a scrapbook or write a letter. 

Gather up your favorite photos of time spent together and create a scrapbook with inside jokes and memories as the captions. Try penning a poem or a heartfelt handwritten letter if you have a way with words. You can also write down things you love about her on separate pieces of paper and put them in a jar or in envelopes for her to open like individual presents.

Do charity work together. If she's an animal lover, take her to volunteer for an animal shelter or pet adoption event. Sometimes the best gift you can give is your time. What better way to spend time together than giving back to your community?
Scavenger hunt. 

A Valentine's Day scavenger hunt is a creative and impressive gift. It could be as simple as hiding clues around your house or creating an elaborate city-wide scavenger hunt. The clues could be sweet and romantic notes or small gifts to collect along the way.

Make a slideshow or video with a music playlist. 

Sentimental gifts mean the most to most women.  A slideshow or video set to music is a fun twist on the traditional scrapbook. It's a great option if you have video footage that you both love. Watch it together and see her reactions in real time.

Cute and personal card. Take your Valentine's card to the next level by making one from scratch. Try a punny title on the cover and fill your card with cute messages, memories and why you love her. A DIY card is also a great gift add-on or for couples who don't care too much about giving gifts.
Be her secret helper. 

While she is out of the house, finish the various chores and tasks on her to-do list.  She'll definitely appreciate this unexpected surprise when she gets home. Take it a step further and fill her pantry with her favorite snacks or leave her a present on her bed.

How to Surprise Her with Food. 

Is she an avid brunch lover or Taco Tuesday enthusiast?  Whatever her style, food is a wonderful way to the feminine heart. These Valentine's Day food ideas range from sweet to salty and traditional to quirky.

Breakfast or brunch in bed. 

Serve her a scrumptious breakfast in bed with plenty of heart-shaped food. Try heart-shaped pancakes, eggs and fruit salad accompanied by a fresh mimosa or pink hot chocolate. Serve the meal on a bed tray with a vase of flowers to complete the look.

Sweet surprise. 

The best time to indulge her sweet tooth is on Valentine's Day. Make her cute heart-shaped cookies, set up a dessert tasting buffet or create a unique dessert box and put her favorite dessert inside. Clearly, you can always leave it to the pros to deliver chocolates and other fresh treats to her.

Classic dinner date. 

The classic Valentine's Day dinner always rocks. Many restaurants have specials and prix fixe menus for Valentine's Day so keep an eye out for her favorite places. Be sure to book well in advance depending on the restaurant's popularity.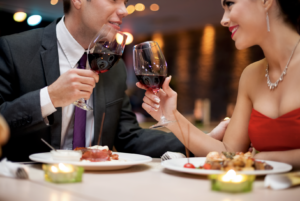 Candlelit dinner at home.  Impress her with your cooking skills and prepare her a delicious dinner at home. Why not start the meal off with a special charcuterie board or decadent fondue, then serve any dish that particularly she likes as an entrée. Tip: Ask her parents what her favorite meal was as a child and ask them for the recipe. She'll be delighted to see you created her favorite childhood meal.
Surprise lunch delivery. 

When she is at work or school, visit during her lunch break and bring along flowers and food. Spend lunch with her. When you leave, tell her that you can't wait until she gets home. If you can't make a lunch date work, have 

luxurious flowers

 and food delivered to her with a note. The sweet gesture will have her smiling the rest of the day!
How to Surprise Your Long-Distance Female Lover. Being apart from each other is tough but at day's end it's all about your powerful mutual connection, not physical proximity. Even if she lives out of town or in another continent, you can still surprise her in many ways on this holiday.
Valentine's Day care package. You may have sent your significant other a care package before but Valentine's Day is a great time to go the extra mile. Rather than just sending your gift, try sending an oversized box filled with balloons that pop out when she opens the box. You could also create a "five senses" care package with gifts that indulge each of the senses.
Video chat date. A virtual date is 

the next best thing to an in-person date. Grab some food, light a candle and try to make your video chat date as close to the real thing as possible. Have her open her gift on video so you can see her reaction. Chat the whole night or watch a movie together.

Special delivery. Make her day and have a gorgeous bouquet of flowers and some fresh treats delivered. With food delivery apps, it's super easy to have food from her favorite restaurant delivered to her. Tip: There are meanings behind the color of the roses

 you choose and why not add carnations to your bouquet to symbolize that you miss her.
What the flowers convey
Red: "I love you." Nothing says "I love you" like red roses. Red symbolizes love, beauty, courage, respect, romantic love, and even congratulations.
White: "I am the one for you." While many send red roses on Valentine's Day, surprise  herthis year with white roses that symbolize true love, purity, innocence, reverence, youthfulness, and charm.Pink: "Thank you."  Perfect for a friend that you want to honor on Valentine's Day, pink roses show appreciation, grace, joy admiration, gratitude and gentleness.
Yellow: "We're friends and I care about you."  Another way to honor your friendship, yellow stands for joy, gladness, friendship, delight, new beginnings, welcome back and remembrance.
Yellow with Red Tip: "I'm falling in love with you."  The beautiful sunset roses let that new person in your life know that you want more than friendship—they symbolize falling in love.
Orange/Coral: "I want you in my life." Orange tells the receiver that you are passionate about them. It means desire, enthusiasm, and fascination.
Red and White Together: "We are a great match." Send a mixed bouquet of red and white roses to her to signify unity.
Peach: "Let's make this a memorable Valentine's Day." If you are ready to say, "Let's get together," choose peach roses as  this rose color symbolizes intimacy.

Surprise visit. 

No doubt, the best gift you can give her is quality time. Surprise her at home or have her brought to a restaurant and treat her to a dinner date. To set up the surprise, coordinate with her friends, family or roommates to ensure that she's in the right location. It may take some time and organization to pull it off, but her unparalleled reaction when she sees you will be so worth it!
Last Minute Valentine's Day Ideas for Her Day procrastinator plans and gift ideas are just as good as any other romantic surprise so she'll never know the difference. Go see a local music group. If you've run out of time to secure tickets to a bigger show, take her to see a local group. 
Live Music.  Many bars have live music and a dance floor so you can sweep her off her feet and dance the night away.
Same day delivery flowers. 

Even if you're cutting it close, you can still brighten her day with a beautiful bouquet or potted plant. Order 

same day delivery flowers

 and have them sent to her at work or home. Include a sweet message or a 

Valentine's Day quote w

ith her gift!

Take her on a shopping spree. 

If you didn't have time to get her a gift, surprise her with a trip to the mall or favorite store. Let her know she has all the time she needs, be patient and help her pick out some pieces that she'll love. By having her pick out her gift, you need not worry about her not liking it!

Take her to a museum or art gallery. If she loves art and antiquities a museum or art gallery can be the ideal last minute date idea. Most museums don't require reservations ahead of time so you can just walk right in. Tip: Keep an eye out for her taste in art or her favorite piece so you can buy a print as a memorable gift she'll love.
 Buy her tickets for an upcoming event. 

You need not hit a department store to buy a last minute gift. Go online and score tickets for an upcoming event that she'll love, like a concert or a festival. As a bonus, the excitement of this gift will last all the way until the event and will be a fun date to look forward to.

Take her on a picnic. 

Picnics are a fun last minute date that you can put together with a quick trip to the grocery store. Go romantic with wine, cheese and fruit or take a more low-key approach with sandwiches and beer. If pressed for time, order take-out from her favorite restaurant.
Note: Men, keep her interests, your past dates and relationship length in mind when planning your Valentine's Day surprise for her. If stuck or pressed for time, leave gifting to the pros and have them deliver a gorgeous fresh gift that she'll love. Don't stress too much about the gift you give or the date you plan.  
After all,  because you know her the best, you will have the best idea of what will please her.