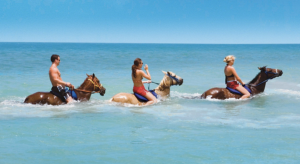 The vows were recited, the bouquet was tossed and the cake was devoured.   All you need do now is sail far away from all that  stress. A honeymoon cruise offers all the comforts and ambiance of a ship at sea, but also provides ideal destinations from beach venues to thrilling metropolises to unravel each day. After so much wedding planning, you may be tempted to book your cruise without a second thought. Yet, that could be a huge mistake.Destination, cabin category and dining options all must be considered when planning and booking your honeymoon cruise as your choices can make or break your on-board experience. Take time between studying Pinterest for place settings and arguing about invitations to read these tips for enjoying the best honeymoon cruise ever. Then, check it off from the greatest-moments-of-your-life to-do list.
1. Itinerary matters. Even if you don't plan on leaving the ship, choose an itinerary that corresponds to your honeymoon needs. Don't pay extra for a cruise that visits Mediterranean capitals if you'd both prefer unwinding by the pool. Sightseeing can be rewarding and romantic, but it's also energy depleting. After the whirlwind of wedding planning and executing, perhaps look to do nothing. On the contrary, make sure you book a sailing with immersive port stops if you are the kind of couple who can't sit still. Look for cruise lines that do overnights in major ports to give yourself more time for exploration. Many cruise lines  like Norwegian and Celebrity offer Bermuda cruises that only call on King's Wharf, but let you spend a few days digging your toes in pink sand. Another bonus of spending more than a few hours in port is seeing a city by night. Spending private time in a foreign place under the romantic cover of darkness is both sexy and alluring. Whether you attend a traditional Hawaiian luau, eat dinner near the Eiffel tower or sip on ouzo at a trendy rooftop bar in Athens, consider what your vision of a dreamy backdrop is before booking your honeymoon cruise.
2. Upgrade to a better room. A balcony cabin is quite adequate but consider splurging on a suite. A suite's perks on nearly every cruise line transcend the square footage. Think pillow menus and oversized showers are luxurious? What about butler service with a personal concierge?  If you don't feel like going to a restaurant for dinner, the same dinner can be sent up to your room. Why not have your butler set it up on your balcony so you can dine alfresco in private? Suite perks vary by cruise line but can include priority embarkation and disembarkation; access to reserved seating for shows and events; a designated suites-only restaurant, sun deck or lounge.  Happily, it often includes a welcome bottle of sparkling wine with a matching fruit platter. For a honeymoon beyond the average holiday, he stratosphere of suite level offers the added edge of finesse.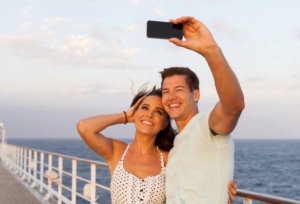 3.
Register for a honeymoon cruise fund
. Nothing can 
beat sailing away on a honeymoon cruise without spending a cent. If your budget allows, register for your honeymoon rather than three sets of china. Lines like Norwegian offer the chance to set up onboard registries. Designate funds for the cruise fare itself, but don't forget additional costs like meals in specialty restaurants, drink packages, shore excursions and even honeymoon packages. Honeymoon cruise packages including everything from Champagne and chocolate to rose petal-laden turndown service are available to celebrate your nuptials for an additional fee. Include your booking information in your registry, so friends and family can reserve packages for you. To wit, you will be blessed with decorated digs or pre-paid drinks. Whether you get someone else to purchase a celebration package for you or do it yourself, get it done well in advance so you know what you're getting. Lines offer honeymoon cruise packages with varying degrees of amenities but there is just an iota of difference between the mid-range and top tier.
If you're a sentimental soul, take photos from each excursion and send them to the wedding guests who contributed toward the cruise or shore tours.. You can express the sentiment that their gift definitely trumped receiving yet another fancy crockpot.
4.  Food Matters!  Next to love, nothing nourishes the body and soul like food. While the days of assigned seating have passed (most cruise lines offer some type of flexible dining), you still have to feast among the masses unless you plan ahead. Of course, the main dining rooms are a free way to enjoy the cuisine du jour. However, you can inform your maitre'd that you would like some personal space at the start of your honeymoon cruise.  For example, a scenic table for two nestled in the back of the restaurant near a window can feel intimate, even in a  massive room full of other cruisers. Another option for newlyweds is to book a reservation at a smaller specialty restaurant. These venues charge a per-person cover or are a la carte, but you will definitely get an upscale ambiance with better quality dishes in return. Book before you sail to guarantee your table. Foodie honeymooners may want to consider a cruise ship with a Chef's Table. If you are both gastronomy lovers, spend a bit more for a a evening where you are doted on by the head chef and savvy sommelier.
5. Splurge on seclusion. On a trip intended to focus on just the two of you, solitude is key. Cruise lines like Princess, Royal Caribbean and Carnival offer sumptuous adults-only sun decks that won't cost extra and provide amenities like secluded hot tubs, padded loungers and hammocks built for two. But depending on how large your cruise ship is, you might be sharing these spaces with a hundred other people. For something more intimate, check to see if the cruise ship you're considering has any limited-access areas. For instance  Norwegian Cruise Line's newest ships feature Vibe where crew members mist you with Evian water and provide fruit skewers. This option offers a quieter slice of at-sea seclusion. Or, seek out rentable cabanas by the main pool, in adults-only areas or on private islands.Another awesome option is your ship's thermal suite, an area dedicated to total rejuvenation with saunas, steam rooms, thalassotherapy pools and heated ceramic loungers. Thermal suites vary from ship to ship. A  seven-day pass usually provides the best value, allowing you and your significant other to soak up the muscle-relaxing bliss anytime you desire.
6. Book a couple's treatment.
In the spirit of your honeymoon, explore treatments for couples. Cruise lines offer couples' massages in the spa and, occasionally, in your room or on the beach in a tropical port. If the line lets you book spa treatments early, do so as couples massages rapidly sell out. Apart from the massage, extras might include a private space to relax with your beloved before or after the treatment.
7.
Advertise your status.
 I
dentifying yourself as a honeymooner may
 not guarantee special treatment at every corner. However, a smart travel agent specializing in cruises who has good relations with your cruise line can likely get you some excellent amenities at no charge. Don't count on anything, but do ask your agent to let the line know you're on your honeymoon. Interestingly, Disney Cruise Line even offers honeymoon badges to wear if you wish to milk the occasion for all its worth. 
Many major cruise lines host a version of the Newlywed or Not So Newlywed game show, where couples compete in silly quiz shows. Although you will need to put yourself out there for potential ship-wide embarrassment, other passengers will get to know you.   Many participants leave with a prize just for being good sports, like sparkling wine or onboard ship credit.