Five Tibetan Rites
The Tibetan monks performed 5 yoga-based moves daily to maintain optimum health. The consistent practice of these exercises strengthens the body and prevents the onset of age-related problems. For the Tibetans, these exercises constitute the gateway to the fountain of youth!
Benefits of the 5 Tibetans
Maintains equilibrium so that you keep your balance.
Strengthens your core to stabilize your frame.
Creates back flexibility to promote agility and open-mindedness.
Builds strength and stamina to get ahead of the aging process.
Activates the 7 Chakras that stimulate the glands in the endocrine system for proper organ functioning, thus promoting youth, vitality and overall wellness.
Start doing 3 sets of each pose a day. Then, gradually increase to a maximum of 21 each.
Spin clockwise, arms out to your sides, parallel to the ground.
Lying flat on the ground, lift your legs straight upwards, bringing your chin to your chest. Return your legs and head to the ground and repeat.
Get on your knees in camel pose and lift your chest to the sky, arching your back but drawing your tailbone down. Continue drawing your tailbone down and bring your chin to your chest. Then lift your chest back to the sky and repeat.
Start sitting, legs stretched out straight out in front, palms flat on the floor. Reach your hips to the sky, feet flat on the floor come up into a table top position. Return to the ground and repeat.
Start in downward facing dog then transition into upward facing dog. Continue a rhythm with your own breath.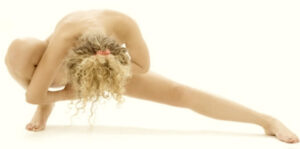 I am Jean Bliss, a Certified Tantric Educator and Holistic Life Coach. 
A lifelong spiritual seeker, I have been formally trained in energetic aura manipulation, Kundalini awakening, Tantric healing, massage therapy, Reiki and Dark Tantra.  In my multi-disciplined approach, I manipulate sexual energy for the highest good. With a background in tantra, kundalini yoga, meditation, qi gong, energy work, sexual psychology and relationship coaching, I employ a unique, rich healing blend for each client. 
My tantra training and spiritually-based practice is ideal for those who wish to embrace a higher, enlightened state and use tantra to create kundalini awakening and a deeper connection to their partner(s). 
I possess a nurturing, joyful nature with a peaceful warrior mindset.
Call or text me at 786 560-2611.